I decided to get back in the game and set up a new tank. Something different (for me at least) this time,so im going salty (not literally). Im hoping to go for a fairly simple setup, low stock and a few corals if possible.. Simple but interesting I guess...
I still had my old vision 180 from so many old set-ups over the past 10 years. (see some of them below)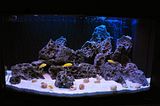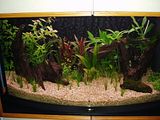 The tank was thoroughly scrubbed out a number of times. I had an old Juwel 3D background on it that I wanted to take off. Had a few problems with silicon residue, but in the end I had to hope when the new backing went on it would cover up these stains.
I should probably mention at this point that the tank has been fitted to sit inside a wardrobe unit in a bedroom. The side window is also cut out allowing viewing from the left.
While aesthetically it looks great, it has thrown up a number of problems in efficient use of space and access. (more of that to come! :S )
Back to the build...
I applied a black vinyl backing to the tank and set it sit for another day or so before moving the tank back up to the room and into the wardrobe. While waiting to fit the tank I installed the lighting unit into the wardrobe. Ill be using an Arcadia 3 series with 150W Metal Halide and 2x18W T8 blue tubes. I mounted them as high as possible but the lights still sit about 15/20cm from the water top.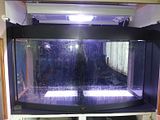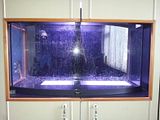 Over the next few days I got pre-made saltwater and about 3/4 filled the tank. Heaters/powerheads were added at this point to get the water going.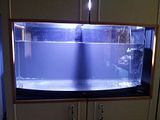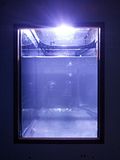 After a couple of days I picked up ~25KG of second hand live rock. I spent the weekend playing with a few layouts but settled (for the minute) with the this.. I found a few hitchhikers on the rocks over the next few days. A couple of turbo snails and brittle stars as well as all the normal oddities..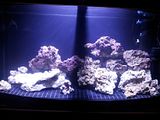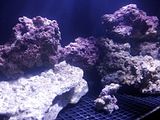 I also added a small number of store bought pieces of rock. After the main aquascape was complete, I wanted one or two specifically shaped pieces. I managed to find
a couple in store and put them in there to finish it off...Iv already found feather dusters and a few growths (Sorry for crappy photos here) Ill see what happens with the in time.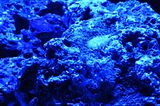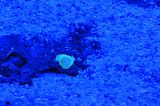 Once the rock was all in and fitted I filled up the tank and added the rest of the gear. At the minute im using a Koralia nano 1600L/H, a Fluval 4 1200L/H (filed with filter floss atm), an old pwerhead (~1000L/H).
I plan to replace the powerhead with another Korialia/Tunze with about 2000L/H flow in the near future. Flow in the tank seams good though, I cant find any dead spots myself at the minute. Skimmer is also to follow.
I added the sand at this stage too, A mix of coral sand and live sand. This might take a little longer to fully culture but given price/time I was happier with this option. Sand bed is about 2"-3" deep.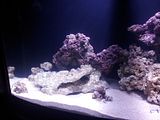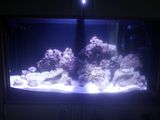 The tank was let run like this over the following few days. I noticed some bleaching of the coralline algae over these days. It seams to have slowed/stopped the past couple days though.
During the week I picked up the skimmer. I went with the Deltec MCE300. Bit of a nightmare fitting this. There is very limited room at the top of the tank and no room to the sides. I have a hole cut out in the back side of the wardrobe leading into the next wardrobe over. Iv used this to add external filters in the past as well as easy of access to plugs. I managed to fit the skimmer through this hole and with a bit of work got it fitted to the back of the tank. It sits pretty high, so cleaning the cup is not a simple job, but is possible (just takes about 10 minutes!)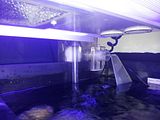 Iv let the tank run like this for the past 4 days or so. I added blue LED to be used for lighting warm up/ cool down periods.
I have these on 2 hours either side of a 4 hour (for the minute) lighting period using MH and T8.
My first tests from last week measured the following parameters.
PH: 8
Amm: 0.1ppm
NO2:0ppm
NO3:30ppm
Temp:27.8
Sal: 1.022
-------------------------------------------
Today the reading show
PH: 8.1
Amm: 0.15ppm
NO2: 0ppm
NO3: 25ppm
Temp:27
Sal:1.023
I also noticed this morning that one of the coral had split itself into 2 parts.
Im going to continue testing the water ever 2-3days, and was considering adding some clean up crew next weekend. Any suggestions here?
Ill try keep this up to date with any/all progress I make with this setup. It will be easier for you to tell me what I did wrong if anything happens then
Thanks for looking!
Alan